The Inaugural Sophia Nugent – Siegal Poetry Prize
Scroll down for more information
Prize Notice

Due to administrative and resource issues, the Sophia Nugent-Siegal Poetry Prize will no longer be hosted by Macquarie University.

The goal of the prize is, however, too important to be lost; thus though the prize will not be awarded for 2016, it will be relaunched at a future date.

Please contact us or follow our blog if you wish to be notified of updates about the prize.

The Sophia Nugent-Siegal Estate
---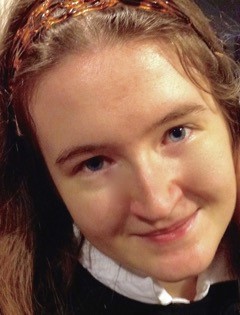 Some one said: "The dead writers are remote from us because we know so much more than they did." Precisely, and they are that which we know.          T.S. Eliot.
Sophia Nugent-Siegal was a gifted young poet, writer of speculative fiction, and Macquarie graduate and postgraduate student of ancient history, whose work reflects her passionate commitment to the sensitive and thoughtful engagement with the past—both in terms of elucidating the past itself and as a necessary means of interpreting the present and imagining the future.
The Sophia Nugent-Siegal Poetry Prize is designed to encourage talented young writers whose work creatively encounters or engages with the past—its great minds, ideas, texts, artworks, literature, mythology, philosophy, theology, wars, struggles, chronicles, voyages, visionaries—and seeks to enter that enduring conversation in a meaningful way.
This prize is created, as a legacy of Sophia Nugent-Siegal, and in her memory, by Sophia's mother, Dr. Robyn Nugent.
Sophia died in 2014 of a rare autoimmune condition, at the age of 22.
Each year, the Sophia Nugent-Siegal Poetry Prize will open on July 30th, Sophia's birthday.
It is a fitting way to commemorate her young and beautiful life.
For Sophia, and for the young poets who enter the Sophia Nugent-Siegal Poetry Prize in the decades to come, Sophia's Prize will always be about beginnings…
Who Can Enter
Sophia's Prize is open to young writers who, at the time of prize closure, are aged 30 years or younger. You must be either an Australian citizen or a permanent resident of Australia, or an international student currently studying in Australia. Though most entrants will probably be between 18 and 30, there is no lower age limit. If you are a gifted younger teenager, you are also encouraged to enter. All entries will be judged on merit alone.
Focus / Theme of entries
The guidelines for Sophia's Prize state that: "Poems are to seek to engage (e.g. in theme, imagery, allusion or form) with history and its attendant cultural traditions, particularly (but not necessarily exclusively) with reference to the Classical and Western tradition."
The focus of Sophia's Prize is to inspire work which taps into the rich tradition of scholarship and the arts which is embodied in the historical worldview and which is so necessary to human culture.
It is no accident that the ancient Greeks saw Mnemosyne—memory—as the mother of the Muses. As Sophia says in one of her poems, "There is a gift of forgetting/ The baptismal font of the Flood/ But also there is a gift of remembering/ The red dancing continuance of life". In humanity's ongoing battle with mortality, memory connects us across time, but it also connects us to each other. It gives us the "shared lexicon" essential to understanding our world.
Sophia's Prize is designed to inspire young writers to seek, as did Sophia herself, creative engagement with that shared cultural lexicon (you are encouraged to read Sophia's work here on her website) – not in a heavy-handed or prescriptive fashion, but as a thoughtful response to the voices of history it contains, particularly those of the Classical and Western tradition which animated Sophia's own work, and which she so loved.
Prize: $5000
2016
Due to administrative and resource issues, the Sophia Nugent-Siegal Poetry Prize will no longer be hosted by Macquarie University. The goal of the prize is, however, too important to be lost; thus though the prize will not be awarded for 2016, it will be relaunched at a future date.