Poetry on the Hill (2018)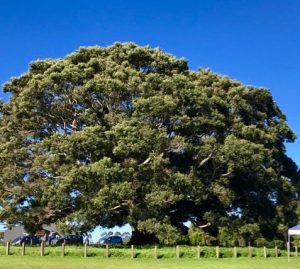 It was the Celebration of Books in Maleny last weekend, and beside the grand tree on the Precinct a poetry reading was once again held. Sponsored by Unity Water (careful stewards of the splendid site) and organised by Maleny's creative community, the event was ably hosted by Radio National's Kate Evans.
The weather was glorious—one of those perfect winter days where the world seems all sky. The audience was warm and appreciative. The poetry, from six poets—MTC Cronin, Brett Dionysius, Vivienne Mohan, Angela Gardner, R. Nugent and, of course, Sophia Nugent-Siegal—gave such a fascinating insight into the versatility of poetry as a medium, its accommodation of different voices, different themes, different tonal qualities.
In an interview Sophia had done for the Queensland Poetry Festival, she said of her poetry that she aimed to fight against mortality, to strive for beauty and power. This really does give a snapshot of Sophia's work. Hers was a powerful poetic voice, even from an early age.
Beauty and power—in the reading I sought to weave Sophia's and my poems together along these lines. My poems came from the collection I have been writing for Sophia called Leaves. Sophie's came from Rough Sleepers, Edge, and Antiquity.
The last poem I read was Sophia's, Apotheosis as an Eagle, which she wrote when she was 14. The poem is part of a longer sequence of 3 (each relating to birds, each dedicated to either a poet or painter).
There is something quintessentially Sophie about Apotheosis as an Eagle. It captures the combination of strength and the aetherial which so marked her spirit. It speaks to me of her—as I think it speaks to others.
Apotheosis as an Eagle (for A.D. Hope)
I should like to die the death of a bird,
To end as an arch into something,
A central star
Falling but immovable.
The death of a bird is the death of a king,
So high that the fall is unbelievable as fire
Unfaded by the realities of rigor mortis
(Stone effigies are soul images not bodies in ice).
The death of a bird implies flight,
It implies genius also,
It is a shamanic step
A moment in transit
It is a run-on line.
The death of a bird also has caesural pauses,
Moments of emphasis,
Moments of rising and air currents,
Motion with stillness, wings locked.
The death of a bird is a leap,
A pause in space-time,
A fall into grace.
The Apotheosis sequence can be heard here: http://sophianugentsiegal.com/apotheosis/