Treasures from the Vault: Sophiae Filiae Dulcissimae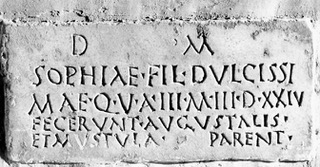 The Internet is an amazing resource.
As an historian, Sophia found it wonderful that, even in Australia, thousands of miles from the centres of the ancient and medieval worlds she studied, she could get access to primary sources—texts, manuscripts, images, epigraphs—that once scholars had to make pilgrimage to find.
Here is one excellent resource, a website that provides online access to Greek and Roman epigraphs (EAGLE or Electronic Archive of Greek and Latin Epigraphy): http://www.edr-edr.it/en/present_en.php
On the site I found a record of a grave marker (from Rome) that seemed particularly poignant.
Translating from Latin, the text in effect says:
To the memory of
Sophia, Sweetest Daughter.
She lived 3 years, 3 months, 24 days.
(Grave marker) made by parents Augustalis and Mustula.
As our Sophia would remind us, history is full of stories. We just have to open our eyes to see, and to remember.