July 30th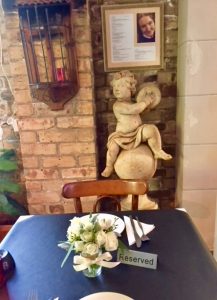 It's July 30th—Sophia's birthday.
She would be 27 this year, but (as noted HERE) she will now always be 22—"forever young," like Keats himself.
Sophia turned 22 in hospital. The lovely photograph on the splashdown page of this website was taken on her 22nd birthday—one of the precious handful taken on that day which are made special not just by their circumstance, but by their truthfulness.
In the previous weeks, Sophia had been desperately ill. At one point, she was told with brutal directness that she had weeks to live.
The battle against mortality which Sophia had always seen as crucial to the creative arts in general, and to her own work in particular, had become an actual battle for life—but by this day, her birthday, there had been a blessed moment of respite in the fight against her terrible opponent.
She had struggled back from the doorway to death. She had survived. It was a small victory.
But Sophia had, by this time, fought a fiercer battle and won a greater victory. The greatest challenge is not the grim physicality of mortal illness (hard enough though that is), but confronting the thought of one's death, the existential reality of it—and in Sophia's case, to do so at only 22.
One of the senior staff at the hospital said after Sophia's death that they had never met anyone quite like her—to be so calm, so composed, and yet so young.
But you had to know Soph, that mind and spirit of hers.
Sophie had thought it through. She had considered the logic of it. She had confronted the thought of her possible death, centred it within her philosophical and theological understanding of the world, and decided how she would live and perhaps die in relation to it. (Remember, Marcus Aurelius was one of her favourite thinkers from the ancient world.)
And this is what she did.
The sweet young face that looks out at you from her photographs is the face of someone who has won the spiritual battle with Death.
This is not a small victory. This is a triumph.
Today, on her birthday, it is a good time to remember that victory of hers. Death did not, and will not win.
Sophia lives in her work, but she is present too in images of her. In her quiet but powerful way, Sophia was so vividly alive. Her spirit shone out of her. She was one of those people whose soul is visible in their eyes.
Here she is, in one of the photographs from her 22nd birthday. Such a steady gaze in that sweet girl's face—her eyes full of intelligence, wisdom, truth, and just a hint of laughter. . .
It's your birthday, Soph. Your spirit lives.
As part of that living spirit, we wish to announce that the first Sophia Nugent-Siegal Award for a poem has been made to celebrated Australian poet, MTC Cronin.
Details of the award are available HERE.